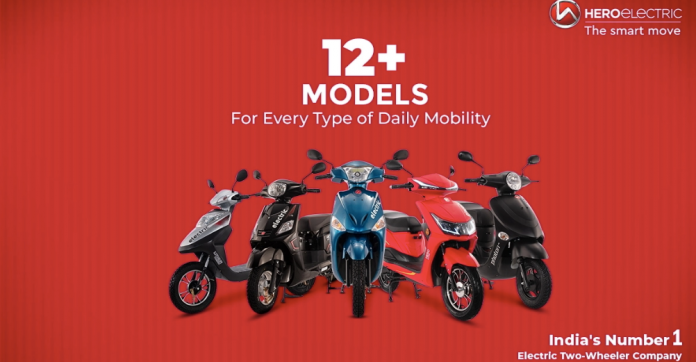 With a colossal market share of 36%, Hero Electric has now become India's highest-selling two-wheeler EV brand. As per the statement released from JMK Research & Analytics, which is a boutique consulting firm. Specializing in research and advisory services for Indian and International clients focusing on renewables, electric mobility, and the battery storage market. Hero Electric currently stands as the India's largest electric two-wheeler company, which has over 4,00,000 electric vehicles presently running on the streets. The statement also mentioned that Hero Electric is responsible for the maximum number of electric vehicles sold across the entire nation in 2021 so far.
Hero Electric has managed to sell more than 65,000 electric scooters in 2021, in spite of the ongoing slowdown in the market owing to this pandemic. The reason for this hiked demand for electric vehicles can be attributed to the favorable EV policies offered by the Central and state governments. Also, the soaring fuel prices have acted as a catalyst in this situation.
As of now, the company has over 2,000 charging stations nationwide, but they are planning to increase the tally by 20,000 in the looming period. Hero Electric in a recent announcement unfolded its plans for expansion in which they will be scaling up its manufacturing facilities to manufacture 10 lakh electric vehicles by 2025.
Naveen Munjal, Managing Director of Hero Electric said, "We are delighted and thank everyone for their support in making Hero, India's no.1 Electric two-wheeler brand. Consumers are becoming more aware to make greener choices that motivate us further to drive the mobility shift. There is an increased demand for EVs over the last few years that has helped us to stay India's largest EV brand. With our varied product offerings and support from the Government, we are leading the change to transform the automotive two-wheeler market and stand at the forefront of this dynamic sector."
To incite the further electrification of the two-wheeler market of the country, Hero Electric revealed the plans to launch a multitude of initiatives and campaigns. These campaigns will be responsible to create awareness and focus on the innovation of EVs.
"It's the time to thank our customers who reposed trust in our products and the brand Hero in our journey to the top. I believe that No.1 comes with lots of responsibilities of being the role model for conducting our business in a fair and equitable manner that benefits the customer, the society and the environment. As a leader we will continue to strive for the growth of an eco-system that supports easy and faster transition to electric mobility.", said Sohinder Gill, CEO, Hero Electric while referring to the above-mentioned campaigns.
Hero Electric has been at the forefront of electric mobility in India for the past 14 years. Making the company one of the oldest and India's largest electric two-wheeler manufacturers. The company has a base of over 4,00,000 happy customers and a network of more than 700 dealerships. Along with a wide range of products in their portfolio. The manufacturing facility of the company is situated in Ludhiana, Punjab.
However other companies like Ola Electric, Hero MotoCorp- backed Ather Energy, Okinawa, Simple Energy, TVS Motors and Bajaj Auto are also slowly catching up with Hero Electric.
Ola Electric, which is one of the rising stars of the electric scooter industry released their flagship models S1 and S1 Pro. Which became an instant hit in the nation and garnered over a million reservations. Ola Electric scooters are available in two variants the S1 and S1 Pro. While the former is priced at ₹1 lakh, the latter comes for ₹1.30 lakh (ex-showroom, before state subsidies). Meanwhile, the S1 variant claims to cover 121 kms, the more-expensive S1 Pro offers an extended range of 180 kms before needing a recharge.
Other than Ola, Aether Energy, the Bengaluru-based startup is another entrant of this EV market. Which is also growing at a swift speed. Aether Energy offers premium electric scooters which are becoming popular day by day. Although the company is in only their third year of existence, they have managed to gain a market share of 11%.
One of the other biggest competitors of Hero Electric is Okinawa Autotech Pvt. Ltd. Established in 2015, Okinawa is a major challenger of Hero Electric. With over 17% of the market share, Okinawa is the second biggest Electric scooter manufacturer of India. It has a dealer network of more than 550 and 7 models in its range. Some other manufacturers like Ampere Vehicles, Revolt Motors also have substantial market shares of 14% and 4%.
Hero Electric raised around $30 million from Gulf Islamic Investments and existing investor OAKS Asset Management (formerly Alpha Capital) in the June of 2021. However, they are now gearing up and evaluating the plans to raise fresh capital to prepare for the ascending demands of the EV market.
The company is targeting to raise around $200 to $300 million dollars this time, with the plans to utilize the funds towards the capacity building, product development, and marketing costs.
"Hero Electric had recently in the month of June, 2021 closed its first part of Series B funding to expand capacity and invest in newer technologies. The Indian EV industry is currently witnessing its best growth phase owing to conducive policies and rising fuel prices, thereby leading to a phenomenal growth in customer demand.", said Naveen Munjal, MD, Hero Electric.
He also added, "For any company to scale and meet market demand seeking investments are a continuous process. As a market leader and the No. 1 EV brand, Hero is committed to lead the EV transformation in the country and grow as the segment grows."