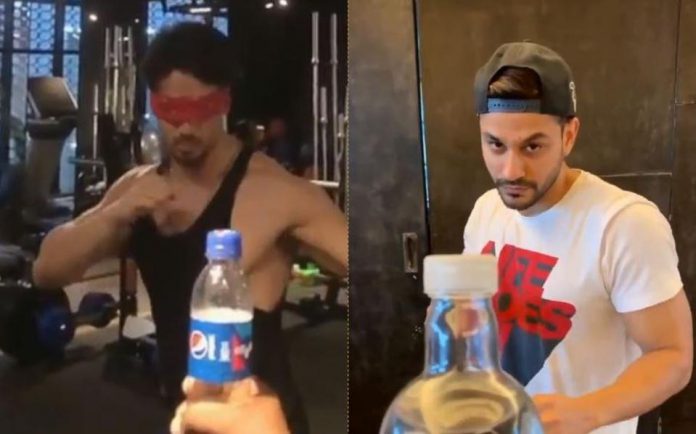 The internet is full of entertainment and one of the latest trends that have been going on for years is of online challenges and the viral videos of the same. With the rise of social media platforms, viral videos and intriguing challenges have been highly popular. In order to go with the flow and to keep fans happy, celebrities are seen taking on these intriguing or downright silly challenges and posting them on their various social media accounts. One such latest trending online challenge is the 'bottle cap challenge'.
In this challenge, people around the world are posting videos of themselves while they kick the caps off bottles. The celebs really need to stand out in the crowd and thus, they have increased the bar of this weird challenge and are posting their off-beat videos that showcase their own unique abilities to kick off or popping off bottle caps.
Here are few such videos that stand out for their off-beat take on the bottle cap challenge:
The first video features the very fit Bollywood actor Tiger Shroff, who definitely shows off his famous martial arts skills while taking on the challenge. He even took the challenge a notch up by blindfolding himself.
Another viral video is a TikTok video that features a man dressed as a Hindu God. He first turns back as if he is going to kick off the bottle cap in the more common way, but then turns around with a smile simply raises his hand and the bottle cap pops off. Well, heavenly, isn't it?
Another very interesting video comes from the world-famous singer Mariah Carey. Maria, who is known for her beautiful and powerful voice is first shown to prepare some karate chops for the bottle cap, but then let out a powerful hitch pitch tone to pop out the cap off the bottle.
Supermodels Kendall Jenner and Hailey Bieber showed off their beautiful figures, kicking skills and sports skills when taking up the challenge. Hailey kicked off the cap from a running quad bike, while Kendall kicked it off from a jet ski.
The next video is from the Bollywood actress Parineeti Chopra who is currently busy training for the upcoming Saina Nehwal biopic. Parineeti showed off her latest skill by taking the challenge with her racket, which she uses to knock off the bottle cap.
One funny video that really stands out came from the Bollywood actor Kunal Kemmu. The Golmaal actor is seen really geared up to kick the bottle cap off, but then he just calming walks towards the bottle and opens it normally with his hands and drinks water from it. That's how it should be done actually, that's what we think!

Now, for the last and most intriguing video that is by 3D animator Arman Ussupov. This video is damn disturbing as it shows an animated water bottle kicking off a human's head instead of humans knocking off bottle caps. Thank God, bottles don't have life and they can't get ideas from this video!