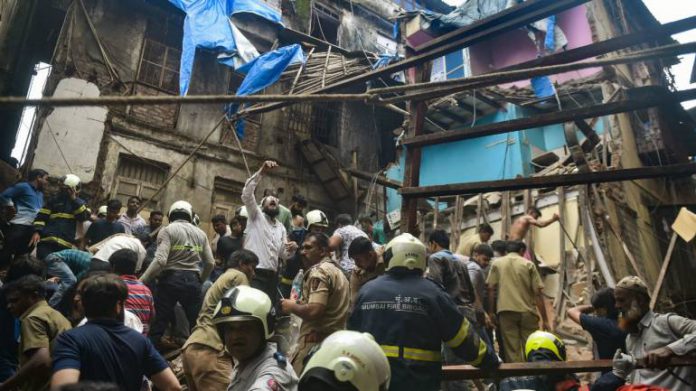 The building collapse in south Mumbai's Dongri has confirmed thirteen deaths so far. The rescue operation is still going on as there are many people said to be still trapped inside the wreckage. Among the 13 dead are nine females and five children, while two men, five women and two children are among those injured. Maharashtra Chief Minister Devendra Fadnavis announced a compensation of Rs 5 Lakh to the family of the deceased and Rs 50,000 for the injured. Also, all medical expenses of the injured are to be borne by the state government.
The Kesarbai building in Dongri locality fell down yesterday around 11AM in the morning. According to the Maharashtra Housing and Area Development Authority (MHADA) the four-storey building was unauthorized where 10 to 15 families lived. The building is said to be 100 years old and since it was not in the list of dilapidated buildings, hence it was given to a developer for redevelopment.
According to the civic officials, the four-storey residential Kesarbai building, in a maze of congested lanes and houses, came down shortly before noon. The building housed an eatery on the ground floor and was located in a bustling lane off Tandel Street.
Mumbai Police has released names of the 13 deceased people: Sabiya Nisar Shaik (F/25 yrs),Abdul Sattar Kalu Shaik (M/55 yrs), Muzamil Mansoor Salmani (M/15 yrs), Sana Salmani (F/25), Zuber Mansoor Salmani (M/20), Ibrahim (M/ 1.5 years), Arbaz (M/7), Saira Rehnan Sheikh (F/25), Javed Ismail (M/34), Arhan Shehzad (M/40), Kashyap Ameerajan (F/13), Shehzad (M/8), Yamin Mansuri (M/54).
The accident site prevented ambulances and earth-movers from being deployed and rescue workers, including residents, used their bare hands to remove concrete chunks, door frames and household items. The rescue work, hampered by narrow lanes, was further hindered by politicians, including ministers and legislators, making a beeline for the site. Ambulances had to be parked 50 metres away.
Prime Minister Narendra Modi tweeted expressing his condolences: "Collapse of a building in Mumbai's Dongri is anguishing. My condolences to the families of those who lost their lives. I hope the injured recover soon. Maharashtra government, NDRF and local authorities are working on rescue operations & assisting those in need." The tweet was posted by Prime Minister's Office quoting him.