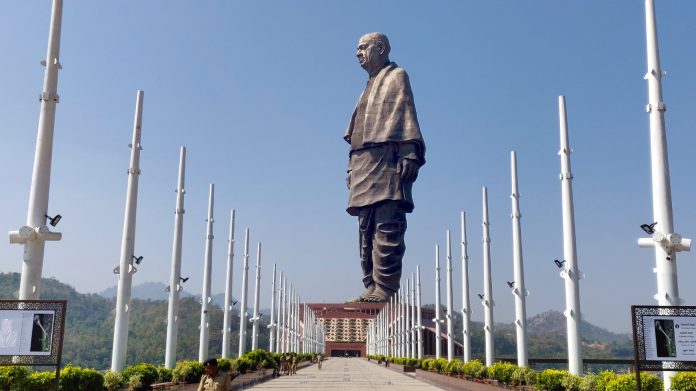 President Ram Nath Kovind, Union Home Minister Amit Shah among others on Thursday paid tributes to Sardar Vallabhbhai Patel on his 144th birth anniversary in the national capital here.
Kovind, Shah, Union cabinet minister Hardeep Singh Puri and Delhi Lt Governor Anil Baijal accompanied by senior Home Ministry officials, paid floral tributes at Patel's statue located at the Patel Chowk here.
Prime Minister Narendra Modi paid tribute to Sardar Vallabhbhai Patel at the Statue of Unity in Gujarat's Kevadia on Thursday as the country celebrates Patel's 144th birth anniversary as the National Unity Day.
In an address on the occasion, the prime minister said that unity in diversity is India's identity.
Modi government has been observing Patel's birth anniversary as 'Ekta Diwas' or National Unity Day since 2014.
Patel was born on October 31, 1875 at Nadiad in Gujarat.
Dressed in Kurta-Pyjama and a blue jacket, Prime minister showered petals on the 182 metres-long statue of India's first deputy prime minister and the home minister, who is credited with merging all princely states into the Union of India.
Prime Minister also attended the colourful Ekta Diwas Parade at the same venue, organized to honour Patel, and administered the oath of unity to hundreds of school children, central armed police force personnel, artists and spectators.
"I take this oath for the unity of my country which was made possible by Sardar Patel's vision and work. I make a solemn promise to contribute to internal security of my country," Modi read out the oath, repeated by those present at the venue.
He was also presented a miniature memento of the National Police Memorial by Shazia Kausar, widow of late Havaladar Naseer Ahmed of 76 Battalion of the CRPF—Ahmed was among the 40 Central Reserve Police Force jawans martyred in the Pulwama terror strike in February this year.
Prime Minister will later visit the Technology Demonstration Site and interact with Civil Service Probationers at Kevadia.
In his 'Mann Ki Baat' programme aired on Sunday, Prime Minister had encouraged people to participate in the Run for Unity, which was flagged off by Union home minister Amit Shah on Thursday morning from the National Stadium in Delhi.
Shah credited Prime Minister Narendra Modi for fulfilling Patel's "dream" of integrating Jammu and Kashmir with the rest of the country by abrogating Article 370 and 35A, which he described as "the gateway of terrorism into Jammu and Kashmir".
Prime Minister Narendra Modi had inaugurated Sardar Vallabhbhai Patel's 'Statue of Unity' on the occasion of his 143rd birth anniversary in October last year.
The statue spreads over 20,000 square meters of land and is surrounded by a 12 square km artificial lake.