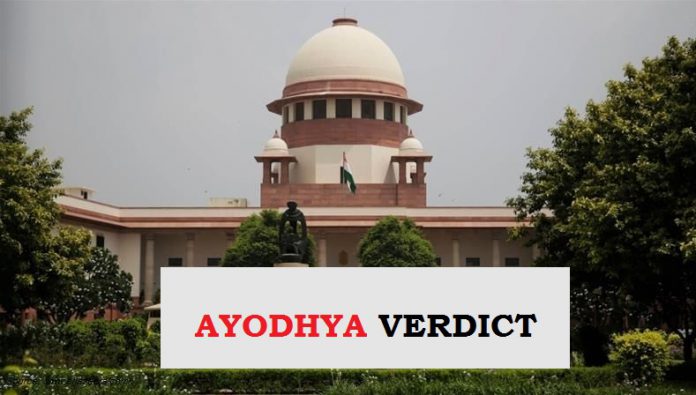 Ayodhya Verdict LIVE Updates | Congress issues statement after judgement, appeals for peace
The Congress, in a statement, said the grand old party respects the verdict of the Supreme Court in the Ayodhya case. "We appeal to all the parties concerned and to all communities to abide by the secular values and spirit of fraternity enshrined in our Constitution and to maintain peace and harmony. It is the responsibility of each one of us to reaffirm our tradition of mutual respect and unity among all that has defined our society through the ages," the Congress said.
Meanwhile, Randeep Singh Surjewala, said, "Ram is sacrifice, Ram is bhaichara, Lord Ram's name cannot be used to divide. Those who do this in the name of Ram, don't understand him at all. The doors are now closed for the BJP to use Ram for its power hunger."
"Congratulations everybody on a peaceful resolution of a longstanding dispute. I will urge everybody to observe restraint in celebrating the verdict. Any inciting or insulting behaviour will be acted against," the Ayodhya DM Anuj K Jha tweeted.
Former RSS ideologue K N Govindacharya, a key figure in the Ram Janmabhoomi movement, on Saturday credited late VHP stalwart Ashok Singhal and veteran BJP leader L K Advani for the success of the cause.
Reacting to the Supreme Court clearing the way for the construction of a Ram Temple at the disputed site in Ayodhya, Govindacharya, one of the major strategists behind the Advani's rath yatra in 1990 in support of building a temple, expressed his "extreme happiness" at the verdict.
"I am extremely happy. Now, in three months, a plan will be made for constructing the temple," he said, asserting that social harmony must be maintained so that the country can move from "Ram temple to 'Ram rajya'."
The Supreme Court ordered that the central government should, within three months, formulate a scheme for the setting up of a trust and hand over the disputed site to it for construction of the Ram Temple.
The land will remain vested in statutory receiver till trust is formed, SC has stated, adding that the management of construction of the Ram temple will be monitored by the trust.
Besides this, a suitable five-acre plot of land will be given to the Sunni Waqf Board, the apex court ordered.
The Centre has also been asked to grant representation in the trust to Nirmohi Akhara, if deemed fit by the government.
Reacting to the development, Kartik Chopra, spokesperson of the Nirmohi Akhara said, "Nirmohi Akhara is grateful that SC has recognised our fight of last 150 years and has given the Nirmohi Akhara adequate representation in the trust to be set up by the Central Government to build and manage the Shri Ram Janmasthan Temple"