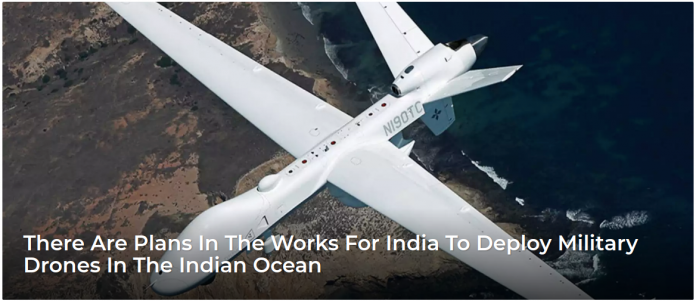 Vice Admiral SN Ghormade, the Indian Navy's vice head, said on Tuesday that the navy would launch a new domestically-built destroyer and a French-built submarine next week to boost its capabilities in the face of shifting relations of power in the Indian Ocean region. This occurs just before a crucial vote on a US acquisition of armed drones is scheduled to take place soon.
In a $3 billion contract, India aims to buy 30 Predator drones, 10 for the navy, 10 for the air force, and 10 for the army.
Indian defense minister Rajnath Singh will inaugurate the Visakhapatnam guided-missile destroyer in Mumbai on November 21, followed by the induction of a Kalvari-class attack submarine, Vela, on November 25 at the hands of naval head Admiral Karambir Singh at a ceremony in Mumbai.
Two key milestones have been achieved with the launch of Visakhapatnam and Vela, which demonstrate Indian capability to develop complicated combat platforms. Ghormade remarked that this would increase our ability and firepower to deal with attacks both above and below the sea surface. For both platforms, Mazagon Dock Shipbuilders Ltd in Mumbai was responsible for construction.
The act of launching a ship is an important one since it signifies the first time the vessel is put into the sea. The defence ministry and GRSE secured a deal in October 2018 to construct the four ships. Additionally, he said that the ships will be equipped with next-generation hydrographic equipment and superior technological capabilities for gathering oceanographic and geophysical data in the Indian Ocean region." A date for Sandhayak's delivery to the Navy has been set for October 2022.
Last month, the Yantar Shipyard in Kaliningrad inaugurated the Indian Navy's newest frigate, Tushil, as Russia prepares to deploy two more warships to India in 2023.