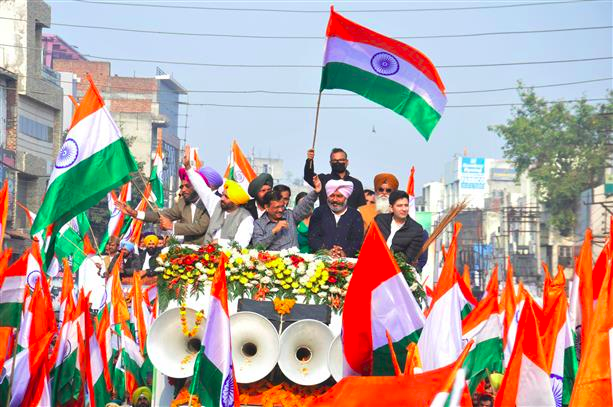 In keeping with his dole-disbursal spree ahead of the 2022 elections, National Convener of the Aam Aadmi Party and Delhi CM Arvind Kejriwal on Wednesday promised two major projects for the city of Jalandhar during a Tiranga Yatra.
Kejriwal said Jalandhar will get India's 'biggest' Sports University and an international airport to facilitate NRI-rich Doaba region, if the AAP forms the government in the state.
Kejriwal made these declarations from an open vehicle from where he addressed crowds during his second Tiranga Yatra in the state. The first Tiranga Yatra was taken out in Pathankot some days ago. During the yatra, Kejriwal also evoked nationalist symbolism in speech and in his march.
A sea of Indian-flag bearing crowds surrounding him on all sides, he said, "All through my way, people climbed on roofs and on windows and everyone said 'Bharat Mata ki Jai'."
He further said, "We have to make Punjab 'khushhaal' (happy). Terrorism days were very bad for Punjab. It is a border state. We have to make it khushhaal (happy). We have to maintain brotherhood. Like you maintain it."
Kejriwal also evoked Kisan Aandolan and BR Ambedkar, saying he salutes farmers and bow to Ambedkar.
He started off the yatra garlanding portraits of Maharishi Valmiki, Guru Ravidas and Sant Kabir. The yatra started from Bhagwan Valmiki Chowk (also called Jyoti Chowk) and ended at Ambedkar Chowk (also termed Nakodar Chowk).
Promising doles, Kejriwal said, "We are giving two guarantees here today. Many Doaba youths have gone abroad. When they return back to country, there is no airport for them in the periphery. It is a very old demand that Jalandhar should have an airport. If AAP forms government then we will make an international airport in Jalandhar."
He added, "We will make the country's biggest Sports University here. Jalandhar has a sports industry and those who play cricket and hockey in country have to use Jalandhar (sports) goods. Sachin Tendular jab apne balle se chakke marta tha. To uske balle ke andar Jalandhar hota tha. (When Sachin Tendulkar hit a six, his bat had Jalandhar in it). When our Hockey team brought a medal in Olympics, their ball and their stick had Jalandhar in it. We will make biggest Sports University here."
Notably, Kejriwal's airport declaration comes on a day when CM Channi announced a four-lane approach road to the Adampur airport — which would be connected to Jalandhar-Hoshiarpur national highway having a total stretch of 5.55 km along with Bist Doab canal.
Kejriwal was joined by AAP MP and state party president Bhagwant Mann, Delhi AAP leader Raghav Chadha among other key functionaries of AAP from the state and Jalandhar.
Hundreds of vehicles from across the state supported the yatra today causing jam for over an hour. Some district AAP units brought in various buses to lend support.