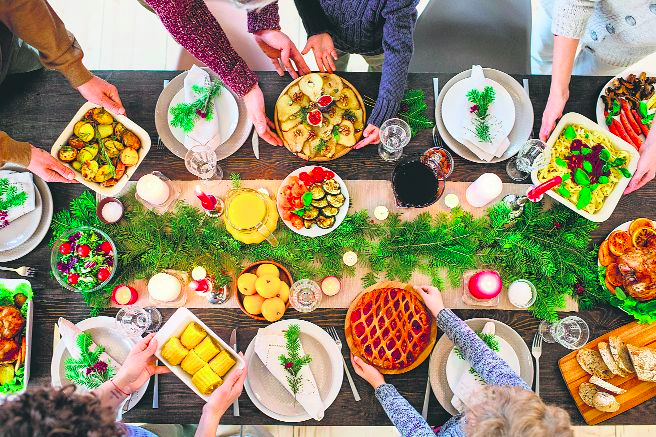 Food, lovingly prepared and generously shared, is as much an integral part of Christmas celebrations as the decorated Christmas tree and gifts. In some countries, families sit down for a traditional dinner on Christmas Eve before heading for the Midnight Mass, while others enjoy a mouthwatering spread laid out for a leisurely lunch after the gifts have been unpacked on December 25.
In Germany, guests are treated to spiced wine, cheesy spaetzle, stuffed goose and braised red cabbage. The French love to indulge in duck and pork terrine, prime ribs with jus, while in the Scandinavian countries, the cold platter remains prominent with cured salmon, roast pork, crispy crackling spiced red cabbage, caramel potatoes and creamy homemade gravy.
Nolen gurer payesh
Ingredients
Rice 1/4 cup
Milk 1 litre
Palm jaggery 1/2 cup
Green cardamom seeds 1 tsp
Bay leaf 1
Cashewnuts 1/4 cup
Golden raisins 1/4 cup
(soaked in water)
Ghee 3 tbsp
Method
Pick, wash and soak rice in water for 20 minutes.
Crumble palm jaggery.
Bring milk to boil in a pan with green cardamom seeds and bay leaf.
Reduce the flame to medium-low and boil, stirring regularly till reduced by 1/3rd of the original volume.
Add rice and continue stirring regularly till the milk is reduced to half its volume. Remove from flame.
Heat ghee in a pan and stir fry cashewnuts. Remove.
Drain water from the raisins and add these to payesh.
Let it cool before serving.
India, a country of sub-continental dimensions, has as rich and diverse a repertoire of delicacies prepared for Christmas as Europe. In the small town in the Himalayas where we grew up, Anglo-Indians were a very visible microscopic minority. The British had just left after Independence and the community was faced with an identity crisis.
No such dilemma was, however, faced by the local Christians — the ones with darker skin, conversant with the local dialect. Mrs Wheeler, the midwife/nurse in the hospital where father worked, treated us to home-baked pastries, keema and egg samosas. The Wheelers took pride in tracing their roots to Gen Wheeler, who had taken part in the Boer War and had been rewarded with an estate in the hills.
Crispy Roast Duck
(Slow cooked)
Ingredients
Duck 1.5 kg
Garlic paste 1 tbsp
Ginger paste 1 tbsp
Salt To taste
Pepper To taste
Garam masala 2 tsp (optional)
Method
Pre-heat the oven to 275ºC. With a sharp knife, pierce the skin of the duck several times at an angle. Wash the duck (inside and out) and pat dry with kitchen towels. Rub the duck (inside and out) generously with salt and pepper. Rub the ginger and garlic pastes well inside the cavity.
Place the duck, breast side down, in a roasting dish and place it in the oven. After 30 minutes, carefully take the duck out of the oven and poke the skin all over again. This will help release fat. Pour out the fat in any dish. Place the duck back in the oven. Cook for another hour-and-a-half. Then turn the duck on its back and cook for 30 more minutes.
Turn the heat to maximum and cook till the skin is nicely browned and crisp.
Remove from the oven and let it rest on a cooling rack for about 20 minutes.
Carve into thin slices.
Serve with baked/roasted potatoes and grilled vegetables.
There was also a slice of X-mas cake specially ordered from a bakery in Nainital, some 50 km away. Nainital was the summer capital of Uttar Pradesh and a cosmopolitan place. Home to many public schools run by Catholic priests and Protestants, the town had several Swiss bakeries catering to the Anglicised elite.
Christmas was celebrated there, particularly in the mid-1950s, with much greater fanfare than now, replicating English traditions — singing of carols, setting up the Christmas tree with glittering decorations adorning it, Santa Claus (Father Christmas), the rich plum pudding.
Other hill stations — Shimla, Mussoorie, Ooty and Kodaikanal, Darjeeling and Kalimpong — and cantonments across India with officers' mess, planters and managers of tea gardens pulled out all stops when celebrating Christmas. The usual festivities included a hunter's ball and fancy dress parties. The tables were laden with hampers of food that revived nostalgia and provided relief from homesickness.
Kerala stew
Ingredients
Chicken (cut into small pieces) 400 g
Cinnamon stick 1 inch piece
Whole black peppercorns 1 tbsp
Carrot (peeled and cubed) 1
French beans 100g
Potato (peeled and cubed) 2 small
Onions 1
Green chilli 1
Garlic cloves 8
Ginger 1 inch piece
Cashewnuts 50g
(boiled and ground to a paste)
Turmeric powder 1/2 tsp
Black pepper powder 1 tsp
Coconut oil 1/4 cup
Salt To taste
For the tempering
Onion (sliced thin) 1 small
Garlic cloves (chopped fine) 4-5
Curry leaves 1 sprig
Coconut oil, for cooking
Method
Wash the chicken pieces and pat dry. Wash and cut the vegetables into large bite-size pieces. Heat oil in a pan or pressure cooker. Put in cinnamon stick, cloves and peppercorns. Stir fry for a few seconds.
Now put in the onions, garlic and ginger. Stir fry till soft. Add vegetables — carrots, beans, potatoes — and lightly stir fry for about 10 minutes.
Add chicken, cashewnut paste, turmeric powder and salt. Stir fry till the chicken is evenly coated.
Pour half of the coconut milk mixed with some water. Pressure cook till 1 whistle.
Allow the pressure to release on its own. Add the reserved coconut milk and give it a stir. Heat a little oil in a pan, add curry leaves and stir till they change colour.
Add onions and garlic and stir fry for 30 seconds or until they turn light brown. Pour this tempering over the stew. Garnish the curry with browned onions and serve.
The festival was equally dazzling across the metropolises of the Raj — Calcutta, Bombay, Delhi and Madras. Show windows were decorated with tinsel and festoons. Special foods were an integral part of these celebrations that lasted till New Year and beyond.
How easily we forget that Christianity in India has a history that goes back millennia to the years not longer after Jesus Christ had walked this earth. Indians in present-day Kerala had not only heard of the miracles performed by the Son of God, but some had also converted to the new creed.
The Syrian Christian Church in this province predates the establishment of the Roman Catholic Church. For Indian Christians — sons and daughters of this soil, as any other citizen — and their compatriots, it is the Bada Din (the Big Day).
It would be inaccurate to dub Christmas as a Christian festival only. Like Holi, Diwali and Eid, it is a day of delight shared and celebrated nationally. The delicacies prepared and distributed on this day are rooted in sub-continental tradition.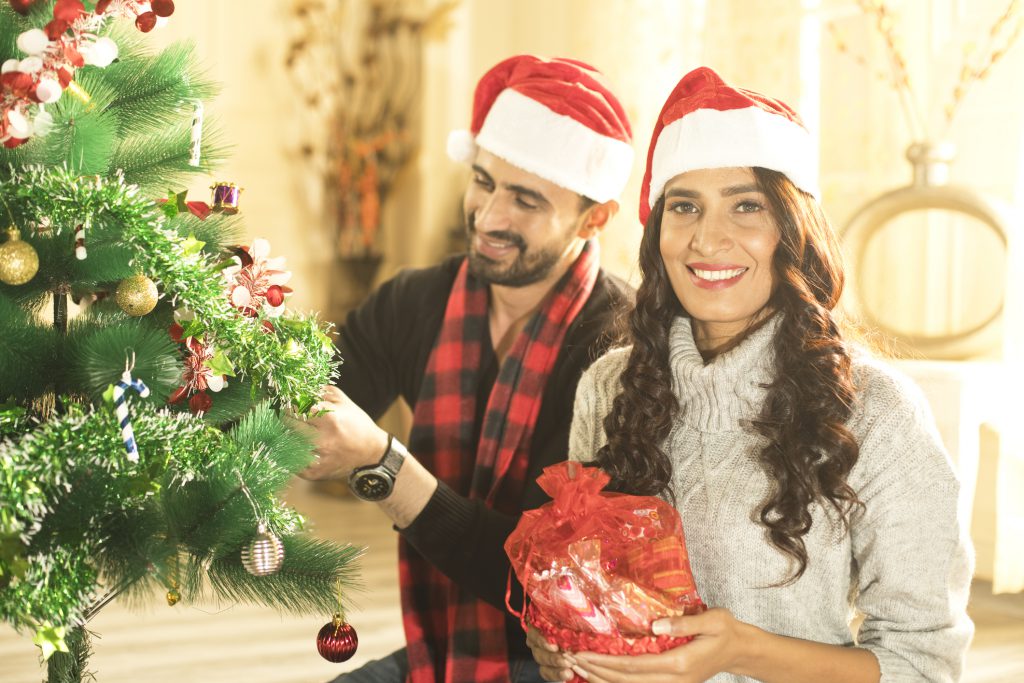 Indian influences
The special meals prepared and shared with family and friends celebrate the wonderful diversity of India and its unique genius to imbibe various influences. Englishmen may have ruled us for centuries, but they were not the only ones who invaded our country.
The Portuguese were the first to land in Kozhikode when Vasco da Gama unfurled Portugal's flag and colonised Goa, where they ruled for 400 years. Goa has a culinary tradition that blends beautifully the foreign with the pre-colonial Indian cuisines.
Bebinca is a multi-layered cake named after a nun, Bebiana, who first prepared it for the resident missionary priests at the Convento da Santa Monica, near Old Goa. The layers of the cake were symbolic of the seven hills of Lisbon.
It is fused coconut and jaggery and has the usual vanilla and eggs. There are many more sweets like kulkul made for Christmas that are jaggery and coconut-based. Sarpotel and vindaloo are prepared for weddings as well as other festive occasions.
In Kerala, it is the delicate lace-rimmed fluffy appam that is paired with mutton or chicken stew. In Tamil Nadu, Andhra Pradesh and parts of Karnataka, dry-meat curries as well as roasts are relished.
The French retained control of enclaves in Pondicherry and to this day, the Français standards for excellence are visible in many of its bakeries, producing some of the highest quality breads and desserts. In the eastern-most part of Bengal, the Dutch had a presence in Firangi Bazaar area in the Chattagaon port and this part again became a melting pot.
Food never ceases to evolve. We recently had prawn-filled idlis and royyala vepudu at a sparkling Christmas feast.
People of Mizoram, Nagaland, Meghalaya — all states having a Christian majority — are proud of their tribal inheritance and it isn't surprising that the menu relies heavily on indigenous foods and flavours. The same is true of Manipur and adjacent Assam. Simple but sublime pork stews, smoked pork ribs, hot salads are favoured in Nagaland, while Khasis love their jado, an unusual pulao prepared with liver.
In northern parts of the country, biryani and pulao and assorted kebabs along with Nargisi kofta have always reigned supreme. The days of Anglo-Indian culinary creations — yellow pilaf rice, the 'bad word (meatball) curry', devilled Scotch eggs and roasts — have made way for what the local palate pines for.
Veteran journalist Satish Jacob has an open house for his legendary Christmas lunch with an irresistible array of ishtoo (stew), qorma, pasande and kebab, all signature dishes from Purani Dilli, that was once his family home. It is worth pointing out that the Delhi ishtoo is very different from the Kerala stew. When it comes to roasts, raan musallam and murg musallam continue to occupy the pride of place.
In eastern India, Assam in particular, duck is relished both as roast and in curry. In Kolkata and Assam, it has always been a prized bird. In Kolkata, this is that time of the year when nolen gur (jaggery made from palm sap) is available and Christmas pudding is prepared with it and coconut milk and is as prized as the sandesh.
Mumbai has a large population of Christians too — from Goa and Mangalore as well as a fair sprinkling of immigrants from all over the land. All of them have brought their traditional ways of celebrating Christmas.
This is the season for spreading joy, cheer and warmth. What can be a better way to do this than by sharing some of your favourite things sweet, savoury and spicy? Merry Christmas!