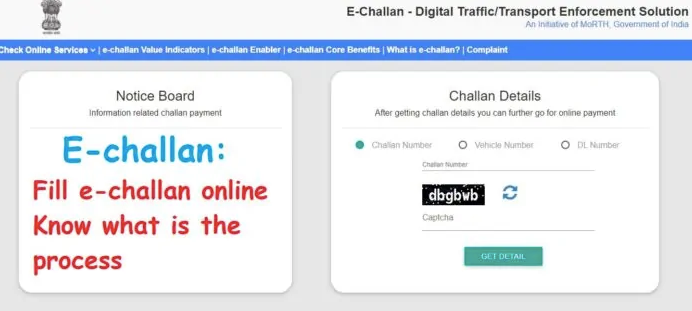 We are telling you that how can you know whether your vehicle challan has been deducted or not? How can you fill your e-challan sitting at home? What happens if the e-challan is not filled?
Often we get the information about the deduction of the challan through SMS on the number registered with the bike registration. Many times this message does not come due to number change, number closure or technical reasons. In such a situation, you can know the E-Challan status by following some easy steps.
How to know invoice deducted or not
First of all you have to go to echallan.parivahan.gov.in website. Now click on the option of Check Challan Status on the website. You will see the option of Challan Number, Vehicle Number and Driving License Number (DL) on the screen.
Here you have to click on the option with the vehicle number. Now you have to enter the registration number of your vehicle here. After that you have to fill the captcha code. Click on the option of 'Get Detail'. Then you will know whether your challan is deducted or not.
Invoice can be filled like this sitting at home
There are two ways to fill e-challan. You can also fill e-challan by visiting the traffic police office. Or you can pay the e-challan online also. If your e-challan has been deducted due to red light, over speed, not wearing helmet and driving without driving license (DL), then you can easily fill it online.
Fill challan with Paytm like this
If you use Paytm app, then you can fill e-challan from it. For this first open the app. Then click on Recharge & Pay Bills. Now scroll down and come down and click on Challan. Then select Traffic Authority.

Here you can easily pay it by entering Challan Number/Challan ID, Vehicle Number etc. If you do not use Paytm then you can also fill the challan by visiting the official website of E-Challan – Digital Traffic/Transport Enforcement solution website. For this you should have details like challan number etc.

What will happen when filling e-invoice?/strong>
A constable will come to your registered address and ask you to submit the challan. Now suppose you do not meet him at the address or your address has changed and the challan could not be deposited in any way, then you will have to go through another process.
If the challan is not paid then you will be considered guilty and the court will be summoned. In the court, you have to give an explanation for breaking the law. If a person does not pay the challan even after this or does not appear in the court, then not only his license will be canceled but the vehicle can also be seized.