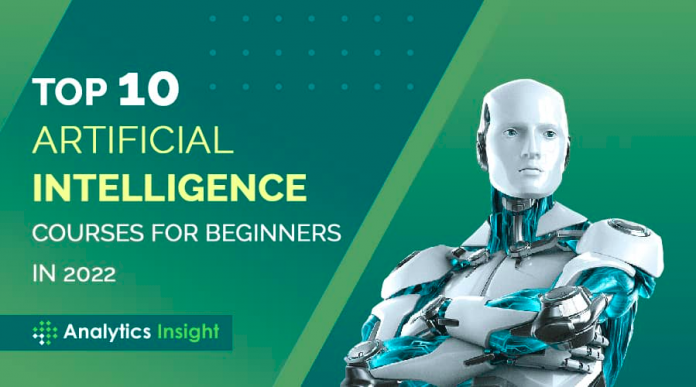 Here are the top 10 artificial intelligence courses offered by top-tier universities and online
Artificial intelligence has become the need of the hour. From face recognition locks to registering and verifying your security for transactions, this technology is everywhere. Artificial Intelligence has positively impacted sectors like healthcare, automobile, education and more. Artificial intelligence/machine learning is a useful skill to keep under your belt, especially since it was all the rage right now. Employers are looking for someone with diverse skill sets, expressly the one who can help their companies advance into the next generation. Here is the list of the top 10 artificial intelligence courses (Best AI Courses) to take in 2022.
Artificial Intelligence Graduate Program – Stanford Online
Courses in the Artificial Intelligence Graduate Program provide the foundation and advanced skills in the principles and technologies that underlie AI including logic, knowledge representation, probabilistic models and machine learning. Learn online, along with Stanford graduate students taking the courses on campus. It is surely one of the best AI courses to take in 2022
Artificial Intelligence A-Z
This is one of the top 10 artificial intelligence courses for beginners to take in 2022. This course provides a thorough knowledge of artificial intelligence, such as machine learning, data science and deep learning, to create AI designs for real-world applications. Candidates can apply their extensive knowledge in AI to design real-world applications and sell them after the course.
Introduction to Artificial Intelligence (AI)
This is one of the best AI courses where you will learn what artificial intelligence (AI) is, explore use cases and applications of AI, and understand AI concepts and terms like machine learning, deep learning and neural networks.
AI For Business Specialization
Learn the fundamentals of using big data, artificial intelligence and machine learning and the various areas in which you can deploy them to support your business. You will get to cover ethics and risks of AI, design governance frameworks to fairly apply artificial intelligence, and also cover people management in the fair design of HR functions within machine learning.
Microsoft Azure AI Fundamentals AI-900
The list of the top 10 artificial intelligence courses for beginners is incomplete without the Microsoft Azure AI Fundamentals AI-900 course. This course is intended for anyone interested in preparing for the Certified AI-900 Microsoft Azure AI Fundamentals Exam. This program consists of 5 courses to help prepare you to take the certification exam.
Artificial Intelligence in Marketing
In this course, developed at the Darden School of Business at the University of Virginia, and delivered by Professor of Business Administration Raj Venkatesan, you will explore an important frontier of digital transformation in marketing. You will examine three key forces that enable AI in marketing strategies – algorithms, networks, and data – and gain a deeper understanding of how businesses in a wide variety of industries can get the most out of this exciting technology.
Artificial Intelligence on Microsoft Azure
This course provides you with everything you need to get started. Artificial intelligence (AI) empowers build solutions that seemed like science fiction a short time ago; enabling incredible advances in health care, financial management, environmental protection and other areas to make a better world for everyone.
AI in Healthcare Specialization
In this course, you will get to learn about the current and future applications of AI in healthcare to learn to bring AI technologies into the clinic safely and ethically. This specialization is designed for both healthcare providers and computer science professionals, offering insights to facilitate collaboration between the disciplines.
Intro to AI for Managers
This is one of the best AI courses for future managers. You will learn techniques to identify opportunities and use AI to further your business project. This course teaches how to manage AI projects more efficiently to get exceptional results. Preventing various under the fit and overfit candidacy issues and regularization of the business module. Coding with Python and using the Scikit library to program more efficiently. Convolutional neural networks, multi-layer neural networks, recurrent neural networks and the process of deep learning.
Google AI
The list of the top 10 Artificial Intelligence courses comes to an end with Google AI a course powered by Google. The company has designed an education program to help people identify the use of artificial intelligence to further the social agenda in various communities. The course covers topics such as basic understanding of machine learning, AI explorable, recommendation systems, and data clustering. How to test and debug machine learning and prepare data. Using AI responsibly for the benefit of society.